5 Tips to Deal with a Cash Shortage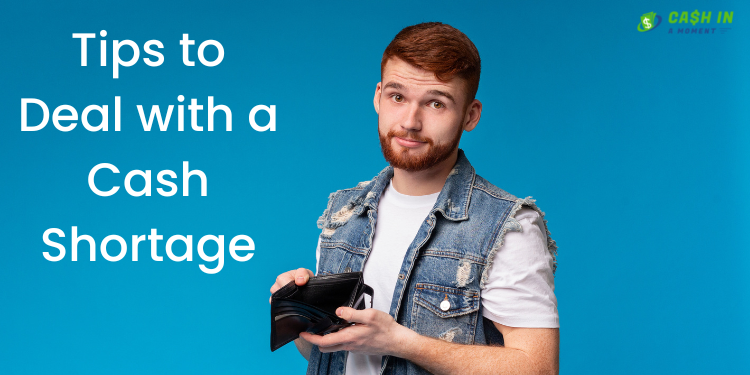 Every single person faces unexpected expenses. All of us find ourselves in a cash pinch at some point, sometimes more often than we would like. It doesn't matter the reason; when you are short of cash, then that is where you are at. This is a very common problem. Here are some financial tips to relieve some of the pressure.
Sell Unwanted Items for Cash
Most of us can find items we no longer use or rarely use. More importantly, they are items we often do not need. Try selling these online. Plenty of places you can do this and spend little time listing them. Don't overprice things. Set a fair price, and you might add "or best offer". This will entice more potential buyers.
Ask Friends and Family to Loan You Some Money
Not everyone is comfortable doing this, but a small loan from friends or family can be a lifesaver. Unless you have burned the bridges by not repaying what you borrowed, you should feel comfortable asking. You shouldn't get offended if the answer is 'no'. Remember, other people, are often in the same bind as you are. Appearances can be deceiving.
Pawn Your Valuables
For more valuable items like jewelry, guns, or other high-ticket items, you can often sell them directly to pawn shops and get cash on the spot. One of the fastest ways to get cash. Yes, they will probably pay you less than if you advertise so they can make a profit, but the money is waiting right there for you.
Get a Cash Advance on Your Credit Card
If you have a valid credit card, you may be eligible for a cash advance from it. There are some additional costs, but it is another very fast way to get the cash you need in an emergency situation.
Get a Payday Loan
CashinaMoment can help you get a payday loan, also called a cash loan or cash advance, and do it quickly. It is not as fast as a pawn shop, but one business day is not long to wait if you are approved.
A great thing about payday loans is they are regulated by each state and are fee-based. This means you know exactly what the cost of the loan is before you get it. Most states allow fees of 15-25% of every hundred dollars you borrow. A $300 loan can cost as little as $45. The other good thing is poor or bad credit is not a big deal as it would be with a traditional loan. Direct payday lenders lend more to people with credit problems than those without them.
Finally, you can request a cash advance 365 days a year, 24/7, and get an answer in 90 seconds or less right from your smartphone.
When you cannot get a traditional loan or have no other way to get emergency cash, consider a payday loan as an alternative solution.
Need cash fast now? Consider the fact that CashinaMoment offers a huge referral network of direct lenders to help customers who need online loans. Open 24/7 and 365 days a year, we have been serving Americans coast-to-coast.
category: Cash Advance Loans