Simple Reasons Why People Get Cash Advances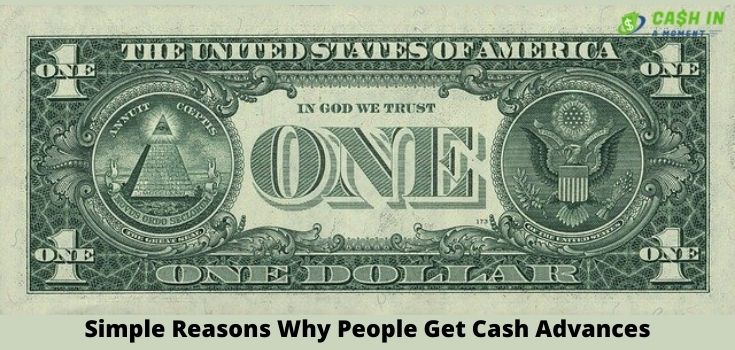 You may have heard that people are getting cash advances. If you never got one, this term may seem a little odd or confusing, but that's okay. Read on to learn more about cash advances.
What is a Cash Advance?
A cash advance is a simple loan (sometimes called a payday loan) that is a small loan amount that most people qualify for.
Why People Want a Cash Advance
Get Money You Need NOW Before Your Next Payday
When urgent or emergency expenses come up and you need money fast. You cannot wait for weeks or months for a bank to get you a loan. There is no faster way than to get the money you need than a cash advance.
Get ONLY the Money You Need to Cover Emergency Expenses
Why get a loan that is bigger than you need? It is always a bad idea to borrow more than what your immediate needs require. Only need $200 for a couple of utility bills that are past due? Want to avoid the penalties, fees, startup fees, and new deposits? Then just ask for the $200 you need and pay your bills!
You Can Get a Loan Even If You Have Credit Problems
More than half of all Americans have credit issues, whether small or large. This makes qualifying for a traditional loan or another credit card very difficult. But most people with credit issues still qualify for a cash advance loan. This is because direct cash advance lenders do not do hard credit checks. Instead, they make sure you have a current income, as that allows you to qualify for a cash advance loan.
Is a Cash Advance Right for You?
If you are just a few hundred dollars short for your emergency needs, then a cash advance may be a very good option. If you need a larger loan amount, then this is not your best option. You will need to get a larger loan. Most states limit cash advance loans to no more than $500 and some even less.
How to Request a Cash Advance
It is really simple, safe, and fast to request a cash advance or emergency loan. You simply go to the loan request form on the website (from any device, including your phone) and complete the short application form. Most people can do this in 2-5 minutes, and you get an answer in 90 seconds or less. There is no simpler or faster way to request a loan.
Sometimes you are in a bind and have no other option except an emergency loan or cash advance loan. Don't worry; CashinaMoment has a large referral network of direct lenders to serve people in need of cash advance loans or emergency loans. Open 24/7 and 365 days a year serving Americans coast-to-coast.
category: Cash Advance Loans