Red Flags to Watch Out for from Online Loan Lenders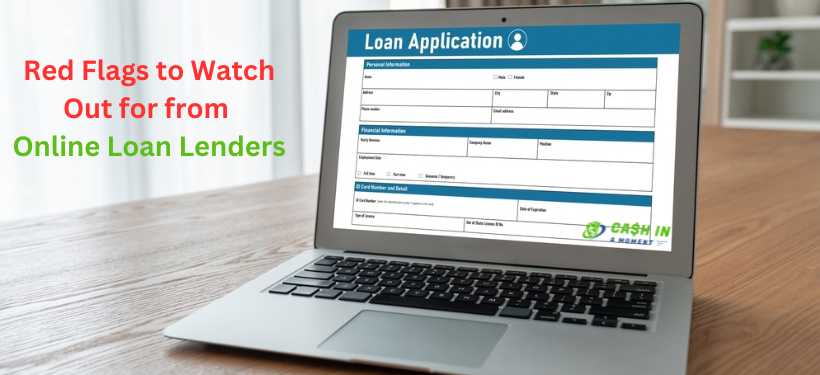 Online loan lenders have become a popular choice for individuals seeking quick financial assistance. However, it is important to be careful when choosing a lending platform. Now with just a few clicks, you can explore various lending options for your personal or business needs. While there are many reputable online lenders out there, one should be aware of potential red flags that come along with online payday loans.
In this blog, we will discuss the red flags to be aware of when dealing with online loan lenders and provide tips for safe online lending.
Red Flags from Online Loan Lenders
No Physical Address or Contact Information
One of the first red flags to watch out for is the absence of a physical address or contact information on the lender's website. Most online loan lenders will always provide clear contact details, including a phone number and sometimes a physical address. Most online lenders do not have a storefront so they may not show their physical address.
Upfront Fees
Be cautious if a lender requests upfront fees or charges for processing your loan application. Reputable lenders never ask for fees or any payment upfront.
Unsecured Website
Secure websites have an "https" prefix in their URL and display a lock icon in the address bar. If an online lender's website lacks these security indicators, you should avoid sharing any personal or financial information because the site is not secure.
Guaranteed Approval
Be wary of lenders that claim to offer guaranteed approval for loans, especially without conducting any credit check or verifying your financial situation. Legitimate lenders assess borrowers' creditworthiness and financial stability before approving a loan. No one can guarantee a loan.
Suspiciously Low Interest Rates
Beware of excessively low interest rates when seeking a loan. Scammers often use them to attract unsuspecting borrowers. Don't be enticed by rates that seem too good to be true. Stay cautious and conduct thorough research to avoid falling into a trap.
Absence of State License or Registration
Most states mandate that online loan lenders must obtain proper licensing and registration. When evaluating a lender, particularly if they operate in states such as Alabama, Florida, Georgia, Tennessee, or Louisiana, it is advisable to verify their licensing status to ensure compliance with state regulations. Taking this precautionary step can help protect borrowers and their financial interests. You can do this from your state website.
How to Protect Yourself from Red Flags
To ensure your safety when dealing with online loan lenders, follow these tips:
Research and Verify
Before applying for a loan, thoroughly research the lender's reputation. Check online reviews and ratings and verify their licensing and accreditation to ensure they are legitimate and trustworthy.
Read the Fine Print
Carefully review all loan terms, conditions, and fees before accepting an offer. If anything seems unclear or suspicious, ask for clarification from the lender or seek advice from a financial professional.
Protect Your Personal Information
Only provide personal and financial information through secure websites. Avoid sharing sensitive data through unsecured platforms or suspicious communication channels.
Trust Your Instincts
If something feels too good to be true or raises suspicions, trust your instincts, and proceed with caution. It's better to be safe than sorry when it comes to your financial well-being.
How CashinaMoment Helps in Times of Emergency
CashinaMoment offers online payday loans through our direct lenders to bridge financial gaps between paychecks and provide relief during urgent situations. Regardless of your online activities, safeguarding your personal information is paramount, especially when it involves the risk of identity theft and financial fraud. Our quick loan request process and prompt loan approvals enable borrowers to access funds swiftly, helping them address immediate financial needs with ease.
Why Choose CashinaMoment?
CashinaMoment will only refer you to reputable online direct lenders known for transparent terms, and quick application process. Below are factors that make us a preferred choice for those seeking reliable and trustworthy online loans:
Get immediate financial assistance online for your emergencies,
Even with poor credit, you can still apply for a loan,
Receive fast approvals, get a decision within 90 seconds of submitting your form,
Borrow any amount from $50 to $1,000 online for all your needs,
Obtain a quick and secure payday loan with no fees for our service.
So, all this makes us a preferred choice for those who value reliability and trustworthiness in online loans. With CashinaMoment, you can expect a reliable and trustworthy lending experience.
Get Trustworthy Secured Payday Loans with CashinaMoment
When seeking online loans, it's crucial to be aware of red flags that could indicate potential scams or untrustworthy practices. By keeping an eye out for warning signs, conducting thorough research, and choosing reputable lenders like CashinaMoment, you can ensure a safe and reliable borrowing experience.
Get started now with us! We are at your service 24/7, 365 days a year for your safe borrowing experience.
category: Online Payday Loans