How to Get a $500 Loan today with No Hard Credit Check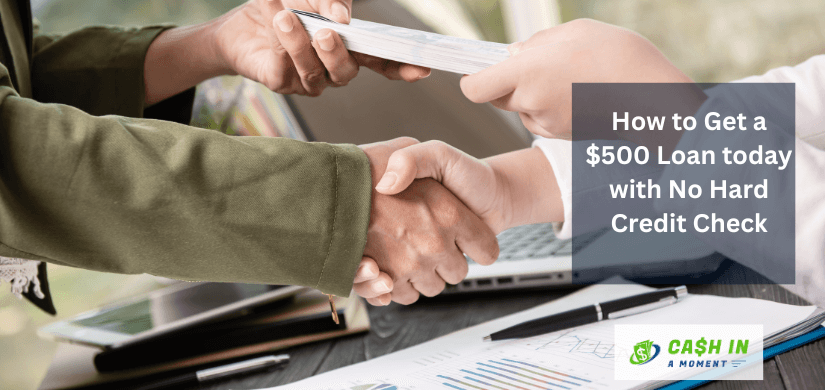 Life's unexpected hurdles don't care about your bank balance or your credit score. In times of unexpected emergencies, having quick access to funds becomes critical, especially if your credit history isn't ideal. If you are in search of $500 today without undergoing a hard credit check, this blog aims to guide you through available options, key considerations, and steps to streamline the process.
Demystifying No Hard Credit Check Loans
No hard credit check loans are financial solutions specifically designed to assist individuals with less-than-ideal credit in acquiring the emergency funds promptly. Traditional lenders primarily depend on your credit history to assess your creditworthiness. But with no hard credit check loans, the focus shifts to alternative factors like your income, employment status, and demonstrated ability to repay the loan.
Types of No Hard Credit Check Loans
Payday Loans: Payday loans offer a temporary financial lifeline, typically bridging the gap until your next paycheck. Diverging from traditional loan processes, these loans typically skip credit checks, offering accessibility to individuals with less-than-perfect credit histories. However, this convenience comes at a considerable expense in the form of high fees. To evade the pitfalls of accumulating debt, it's crucial to exercise caution and prioritize timely repayments, steering clear of costly rollovers.
Title Loans: Leveraging your vehicle's equity, title loans allow you to use your car's title as collateral for a loan. Although your credit score may not be the primary determining factor, the lender retains the authority to repossess your vehicle if you falter on your repayment commitments. This underscores the importance of viewing title loans as a last resort option due to the potential risk of losing your car.
Installment Loans: Installment loans are another option. They offer longer repayment periods and often lower interest rates compared to payday loans. While they may not require a traditional credit check, some lenders may perform credit checks as these loans are harder to qualify for.
How to get a $500 Loan today with No Hard Credit Check
Research Lenders: Start by researching reputable lenders that offer no hard credit check loans. Look for online lenders who provide these services.
Gather Necessary Documentation: Lenders may require proof of income, identification, and a bank account. Have information and documents ready to streamline the application process.
Online Application: Most lenders allow you to apply online, which is often the quickest and most convenient way. Fill out the application form, providing accurate information.
Submit Your Application: Submit your application and be sure it is complete and accurate. Inaccurate submissions are a leading cause of rejections. Lenders offering no hard credit check loans tend to process applications swiftly.
Approval and Funding: If your application is approved, you can receive the funds in your bank account in one business day in almost all cases. The approval process is faster compared to traditional loans.
Review Terms: Carefully read the loan terms and conditions. Ensure you understand the interest rates, fees, repayment schedule, and any penalties. Ask your direct lender any questions you may have about your loan agreement.
Getting a $500 advance loan with no hard credit check is often a straightforward process. Here's a step-by-step guide:
Research and Choose a Lender: Begin by researching different lenders and selecting one that suits your needs. Make sure to read customer reviews and check for any hidden fees or predatory lending practices. Check your state website to be sure the lender is licensed in your state.
Gather Required Documents: Typically, you'll need to provide proof of income, such as pay stubs or bank statements. Lenders may also require identification, proof of residency, and a valid checking account.
Complete the Application: Submit an online or in-person application with the lender. The application will ask for your personal and financial information.
Loan Approval: Since no hard credit check loans focus on your income and ability to repay, the approval process is much faster than traditional loans. If approved, the lender will provide you with the loan terms, including the interest rate and repayment schedule.
Alternatives to No Hard Credit Check Loans
While no hard credit check loans can provide quick access to cash, they often come with higher interest rates and fees. Before taking this route, consider these alternatives:
Credit Builder Loans: Certain financial institutions provide credit builder loans, specifically crafted to assist individuals in building or restoring their credit. These loans typically feature lower interest rates, presenting a viable long term solution to enhance your creditworthiness.
Peer-to-Peer Lending: Services such as Prosper and Lending Club facilitate connections between borrowers and individual investors. Serving as an alternative to conventional lending, this platform holds the potential for reduced interest rates, providing an attractive avenue for those seeking financial support.
Side Gigs: Explore opportunities in the gig economy, such as freelance work or ride sharing, can help you earn extra income to cover emergency expenses.
Conclusion
A $500 loan with no hard credit check can provide the immediate financial relief you need in times of unexpected expenses. However, it's crucial to approach all loans with caution and responsibility. Be sure to choose a reputable lender, understand the terms, and be sure you can make repayments as stated in your loan agreement.
Remember that while no hard credit check loans can be a quick solution, building a strong financial foundation with an emergency fund and responsible financial habits is the best long term strategy to protect yourself from future financial surprises.
When you need quick financial assistance, turn to CashinaMoment for dependable $500 payday loans online. Get the support you need, responsibly and swiftly. After submitting your application, you get an answer in 90 seconds or less!
category: Cash Advance Loans
Be the first to post a comment