What Are Some of the Best Emergency Loans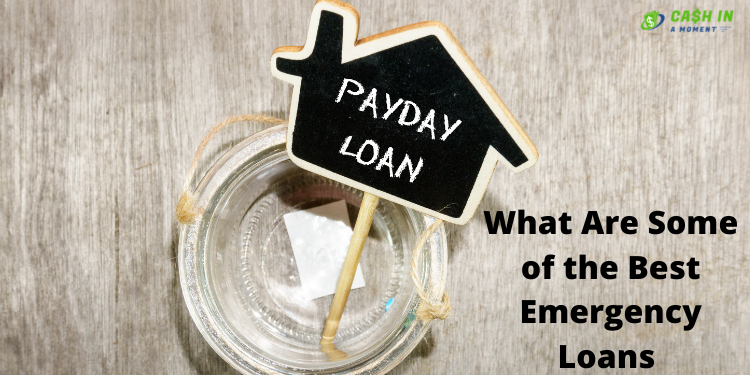 Emergency loans are simple loans, often called payday loans, that you can use to pay for emergency expenses. These may include unexpected home or car repairs as well as medical expenses. These loans are usually funded within one business day of approval.
Types of Emergency Loans
Some of the best types of emergency loans include:
1. Auto title loans
With auto title loans, a lender assesses the value of your vehicle and lends you a percentage of that value. If you accept, the lender holds your auto title, and you receive your loan. The lender can charge high-interest rates. These loans are only legal in a handful of states. The big risk is that if you do not repay your loan, the lender will take your car.
2. Pawn loans
Pawn loans require you to hand over a valuable item to a pawnshop. The pawnshop assesses the value and gives you a loan based on that amount. You have to repay the loan with interest, or the pawnshop will keep your item. Interest rates can be quite high. Very few states allow pawn loans.
3. Installment loans
Personal installment loans are often large in size and have longer payback periods, often six months or more. They tend to be regulated like traditional bank loans. But you will need at least average credit scores to obtain this loan. Poor or bad credit will rarely qualify.
Of course, you can also consider borrowing from friends and family, which will keep your loan costs much lower.
What Can You Use Emergency Loan for?
True emergency loans can be used for any purpose. Some of the most common are: Medical or dental bills, home repairs. Everyday bills or expenses, or any other bills.
How to Choose an Emergency Loan?
In the past, you were told to compare lenders and shop around, etc. This takes an excessive amount of time and, in today's world, is a bad strategy. Even online payday loans are highly regulated by every state, and there is almost no variance in the rates for loans. These small loans are fee-based, and the fees are either set or have a fixed range. Whether you can afford the loan fees or not, you need emergency money and don't have time to waste.
How to Get an Emergency Loan?
The one thing you should do first is to figure out what you can afford to borrow. If you feel you can pay back your loan on your next paycheck or within 1 month, you are in good shape. If not, you should not take out the loan.
The process to get the loan is fast, secure, and only takes a few minutes, no matter where you are, as long as you have cell phone service. Complete the short loan request form, submit it, and wait no more than 90 seconds for an answer. There is no faster or easier way to request an emergency loan.
What If You Have Bad Credit?
No problem. More than half of all emergency loans are given to people with poor or bad credit. Your ability to repay the loan is based primarily on your current income and not on old history.
Where Can You Get an Online Loan?
Online, online and online. Driving around trying to find a storefront (which only a few states have) is a waste of time and gas money. For the time it takes for you to get in your car and start driving, you would already be done completing an application and getting an answer.
Tips for Building an Emergency Fund
You should have an emergency fund so you do not have to make emergency loans. Try to build a fund that would cover 3 months of your expenses. Always start small and build it up. Set small goals and go up from there. A small monthly savings goal can help you get there. One way to ensure success is to automate your savings by setting aside a few dollars from every paycheck, starting with $20. Out of sight is out of mind, and you will find you can adjust quickly while also building that emergency fund.
Consider a payday loan as an alternate solution if you are unable to obtain a standard loan or have no other means of obtaining emergency finances.
Contact CashinaMoment for Emergency Loans
Need cash fast for an emergency expense? An emergency loan can help you when you need it most. Consider the fact that CashinaMoment offers a huge referral network of direct lenders to help customers who need online loans. Open 24/7 and 365 days a year, serving Americans coast-to-coast.
category: Emergency Payday Loans