7 Reasons Why Your Credit Card was Declined and Alternatives for Payment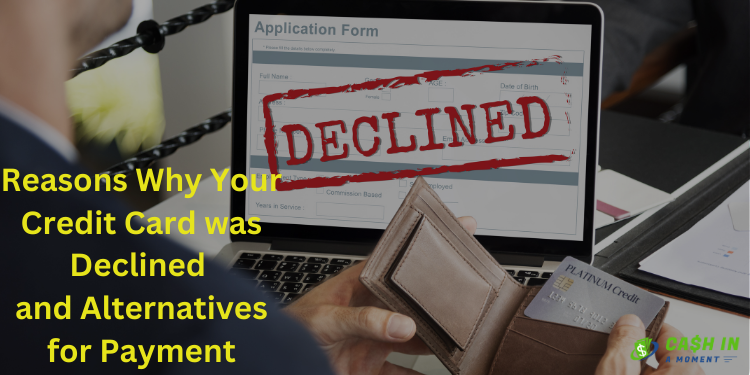 Nowadays, paying with a credit card has an everyday ritual. You need one for shopping and many other purchases. However, occasionally you might have to deal with the embarrassing experience of having your credit card declined at the counter.
According to a survey, the decline rate for credit cards varies somewhere between 4.5% and 7.5%, while according to Visa and Mastercard, recurring payments have declined at a rate of 15% on average, but in some sectors, that rate may be double.
You may not know why your card was declined and be uncertain about what to do about it. Here, we will give you a better understanding of why your credit card might have been declined as well as some options in that situation.
Top 7 Reasons for Declined Credit Cards
1. Exceeded Your Credit Limit
Using a credit card in excess of your credit limit, which is a predetermined amount that your creditor agrees to pay and which can be found in your member agreement or by contacting your card company, may decline your transaction.
2. Transactions While Traveling
If you make purchases from another city, whether domestically or abroad, your credit card company may consider your card lost or stolen. In order to safeguard your information, your card company might lock your accounts and stop any purchases from happening.
3. Reported as Fraudulent
Your credit card company keeps a close eye on your spending habits. If you go on an unusual shopping spree and spend significantly more than you usually do or make any large purchases, those transactions may be reported as fraudulent, your account may be frozen, and your card will refuse all future payments.
4. Incorrect Payment Data
Your credit card company may freeze your account and decline payments if you enter your credit card information incorrectly on retail websites or mobile apps too often, often because you entered an outdated billing address.
5. Unpaid Credit Card Bills
If you have a history of missing payments, it might be impossible to use your credit card going forward. This may also have a detrimental effect on your credit rating and significantly lower your future eligibility for rewards, other credit cards, or favorable loan rates.
6. A Credit Card that is Past Due or has become Inactive
An expired credit card or a deactivated account will always result in a transaction decline. It is best to apply for a new credit card and have it activated about 3 months before your current card expires. If you are in good standing, you will automatically get a new card before the expiration date.
7. Temporary Holds on Your Card
It is common practice for rental car companies or hotels to put your credit card on temporary hold until you have checked out. When there are temporary holds on your credit card, your transaction will be declined if your purchase exceeds the credit available to you on your card as it may exceed its limit.
Do Declined Credit Card Transactions affect your Credit Score?
While declined credit card transactions do not inherently affect your credit scores, some contributing factors why it has declined may play a role in it—particularly when it comes to missed credit card payments, which usually have a negative effect on your credit scores.
What to do when your Credit Card is Declined?
If the mistake was made by your credit card company, all it takes is a quick phone call to the company to have it fixed. If you go over your credit limit, you might not have a choice but to use alternative payment methods, like a debit card, another credit card, or cash.
For better money management, make sure to keep track of the credit balances on all of your credit cards. If there are no other options, you might have to leave the shop and make your purchase later.
However, if you find you have no alternative way to make your purchase, you may choose to apply for a payday loan online. When you have exhausted all other options, this proves to be a very convenient option, and you can get a loan approved online in a matter of minutes without any hard credit check.
Credit Card Decline? Don't Worry! Cover Your Expense with Payday Loans at Cashinamoment!
If you have an urgent need for cash, consider the huge lender referral network of CashinaMoment that can offer you fast payday loans right from your smartphone. We are available around the clock (24/7 and 365 days) to serve customers' needs.
Get started with your online payday loans at CashinaMoment today!
category: Online Payday Loans