How to Manage a $500 Emergency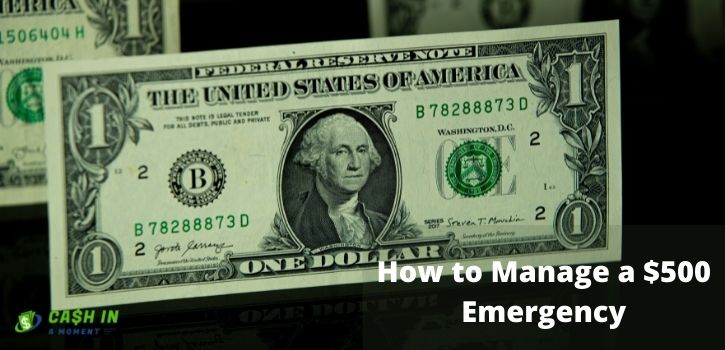 Any kind of financial emergency or expense can wipe out any budget you have. Maybe you or a family member had to go to urgent care or see your doctor, or you had an unexpected breakdown of your car/SUV and need it repaired today!
You are not alone. Do you know that only about 1/3 of Americans have enough in savings to cover a $1,000 emergency?
So do not wait; act now. Start by setting up a system that will relieve your stress and allow you to avoid these situations. The first step is to set up a real budget so you know where your money is going and how you can gain control of it.
How much money can you come up with if you have poor credit?
A simple test to see how you are doing: see how much money you can come up with without using any open balance on a credit card. Do you have a savings account? If you do, how much money is in it?
After setting up a realistic budget, find the things you can cut back right away. Do not wait, as you will lose focus and never get started. Most people find they can save $25 to $100 or more every month, sometimes even more.
Can you pay for an emergency?
Many medical expenses are partially covered by insurance, but the balance is yours to pay. If you went to an urgent care center, many of them require either pay upfront or before you leave. Even if you can set up payments, you may have a difficult time for months as you try to pay it off. Auto expenses are no different as mechanics or service shops expect payment in full before they give you your car back.
Any of these situations can lead to a scramble to find money right away. You can't wait for weeks for an answer from your bank.
Create an Emergency Fund
Having an emergency fund is the best solution. An emergency fund can save the extra expense of using a credit card (with high interest) for that emergency expense.
The best recommendation is to have about $1000 or one month's income in your emergency fund. Over time you want to increase this to about 6 months' worth of expenses. Get out of debt as quickly as you can. Most people are paying 1/3 of their money to interest, so reducing and then eliminating debt is saving a lot of money.
An emergency fund can cover everything from auto repair, medical expenses, utility expenses, or even if you are out of work for a short time. Start forming a habit of setting aside some money every single week…most of it can come from those expenses you cut.
Ways you can save money quickly
Consider switching to an 'essentials only' budget and stop all unnecessary spending. For example, stop eating out for a month. Cooking at home, packing lunches for work, and stopping other small expenses (like that coffee you pick up once or twice a week) will easily save you $200 a month. Don't buy clothes or shoes unless you absolutely have to. And stop all outside activities that cost money, like going to the movies. You should consider selling unused items for extra cash to pay off bills or add to your fund. Take on a part-time job for added income to accelerate the process.
It may be hard at first, but it gets easier as you move forward, and you will feel relieved as you reach your goals.
Sometimes you are in a bind and have no other option except an emergency loan or online loan. If so, consider a small, fee-based loan for your current emergency. CashinaMoment has a large referral network of direct lenders to serve people in need of online loans or emergency loans. Open 24/7 and 365 days a year serving Americans coast-to-coast.
category: Online Loans