How Can No Denial Payday Loans Help You Cover Unexpected Expenses?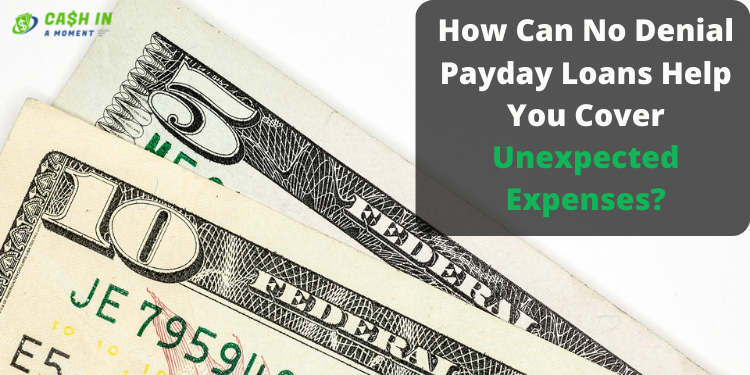 A no-denial payday loan is where a lending company will supposedly offer guaranteed credit or loans.
Do These No Denial Loans Really Exist?
The simple answer is NO; they do not exist. No lender can guarantee a loan without first verifying key data about the person requesting the loan.
Are there advantages to payday loans over traditional loans? Yes, of course. Direct payday lenders do not do hard credit checks but use alternative data sources to verify a person's history. This makes the process incredibly fast.
Even if you request a loan on a lender's website, there is still a chance you may be denied. Therefore, a "no denial" payday loan doesn't exist. It is a false statement often used for promotional purposes. And it is against all standards established for lenders to use.
Why Does a Payday Loan Request Get Denied?
If your application was denied, there are a number of possible reasons. Below are the most common ones.
Application Form problems
There are times when applicants submit the application form with incomplete or inaccurate details.
Verification
The details of your ID (from data sources) are different from what you provided on the application form.
Incomplete Information
Lending companies require proof of employment and income and must verify it in order to provide a loan.
Unemployed and Underage
You must be the legal age of 18 or older and be employed or have other sources of income.
Steady Income
A payday loan does not require collateral, so a critical factor in approval is the amount of your current income. It is the best indicator of your ability to repay your loan.
Active Bank Account
Most lenders company requires you to have an active bank account to deposit your loan amount as well as to get paid when it is due.
Can You Re-Apply for a Payday Loan If You Were Turned Down?
Yes, you can. For one thing, the time and day you applied can make a big difference. For example, if you apply on a weekend or holiday at night, there are far fewer lenders working, so your odds of approval drop quite a bit. Weekdays during working hours are much better for requesting a loan.
Also, you may have just made a mistake in your initial loan request form. Always check your data entries for accuracy as it is all the lender has to go by. The form is short and online, so it is easy and fast to complete, but if you get sloppy, it could kick out your loan request immediately.
Can You Get Online No Denial Loans with Bad Credit?
Bad credit is not an issue for most direct lenders of payday loans. Your current income is what is the primary factor. If you cannot get a traditional loan or have no other way to get emergency funds, consider a payday loan as an alternative solution.
Need cash fast for an emergency expense? An emergency loan can help you when you need it most. Consider that CashinaMoment has a large referral network of direct lenders to serve people in need of online loans. Open 24/7 and 365 days a year, serving Americans coast-to-coast.
category: Online Payday Loans